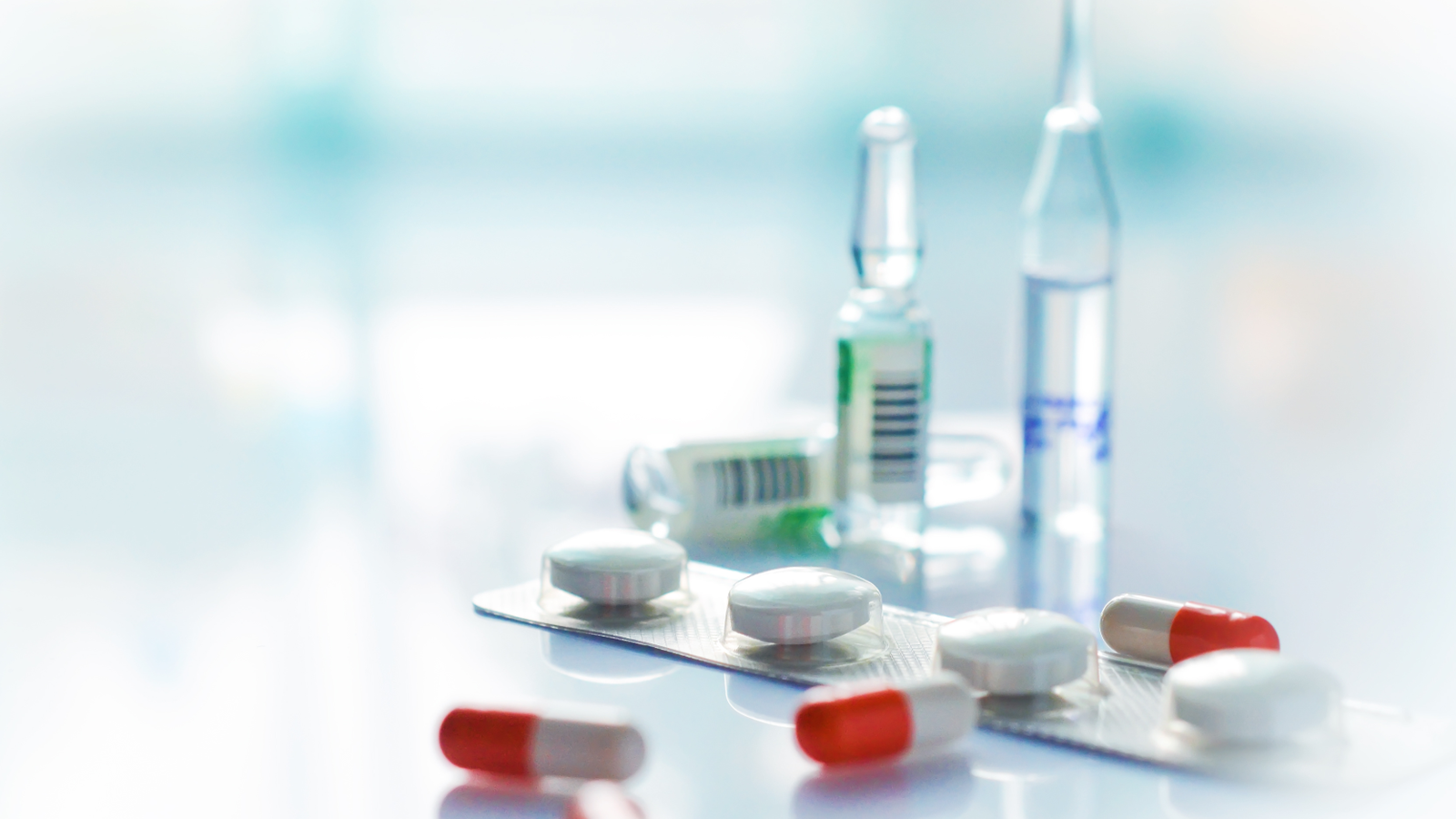 Pharma Solutions
With over a century of expertise, ProMach excels in the design, production, integration, and maintenance of cutting-edge pharmaceutical and medical packaging solutions. ProMach's advanced technologies are engineered to address even the most demanding specifications, ensuring minimal downtime, increased productivity, and superior pharmaceutical packaging performance, all while maintaining strict compliance standards.
COMPLETE TURNKEY INTEGRATED LINES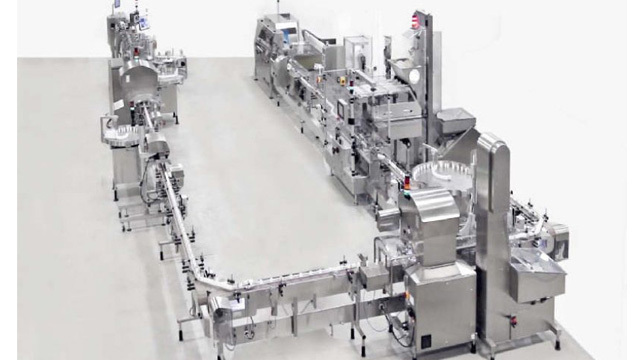 ProMach Pharma specializes in meeting the packaging needs of the pharmaceutical industry. The extensive range of packaging technologies and applications offered is complemented by partnerships with other top manufacturers, ensuring that we can supply quality equipment for your packaging line.
What sets ProMach Pharma apart is our comprehensive range of services. From manufacturing to representing key distributed brands and integration, we are a one-stop packaging solutions provider. We offer expert knowledge and support at every stage, from planning to implementation and production.


The ProMach Pharma portfolio includes a wide array of equipment such as
Unscramblers
Tablet counters
Bottle fillers
Cottoners, Cappers
Tamper evidence
Blister packaging 
Labelers, printers, and coders
End of line equipment
Liquid aseptic processing/filling equipment
Washing, sterilization, and decontamination
ORAL SOLID DOSE PACKAGING
ProMach Pharma offers a comprehensive range of solutions for oral solid dosage products. Our product portfolio includes various equipment such as bottle unscramblers, tablet counters, cottoners, blister packaging, cappers, labelers, and digital intelligence tools
NOTEWORTHY APPLICATIONS
Bottle Unscramblers
NJM offers cGMP designed bottle unscrambler ideally suited for the pharmaceutical, nutraceutical and personal care markets in a compact design.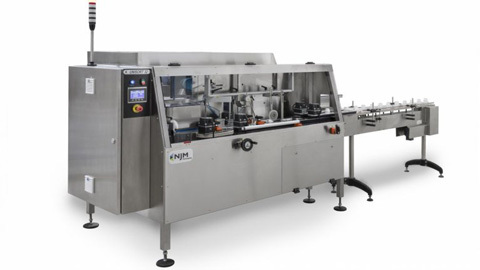 Tablet Counters
A market leader for more than three decades, tablet counters from Cremer feature robust construction, quality, accuracy, and consistency.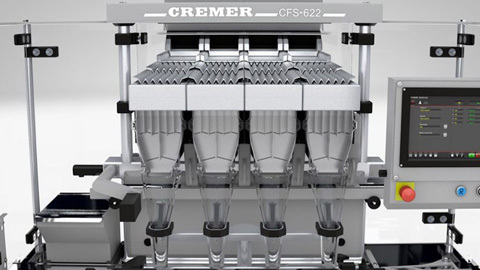 Cottoners
Heavy-duty construction and robust design characterize Cottoners from NJM Packaging.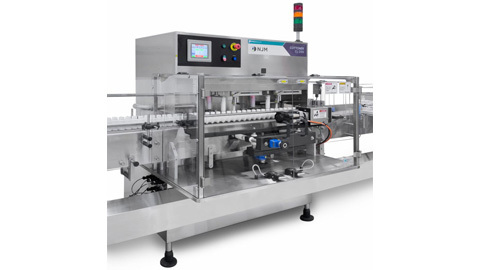 Desiccant Dispensers
Desiccant pouches or canisters are dispensed into containers at any speed range or container size to eliminate condensation that may occur after packaging.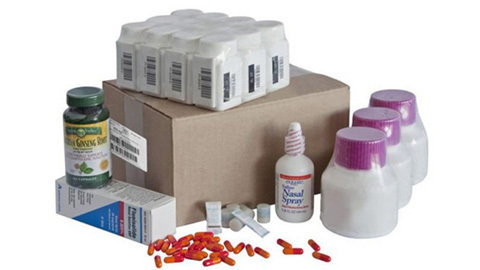 Capping
NJM's capper family includes inline belts, inline discs, and rotary continuous models. NJM provides several features to suit any operation, including various cap feeders, elevators, and chutes.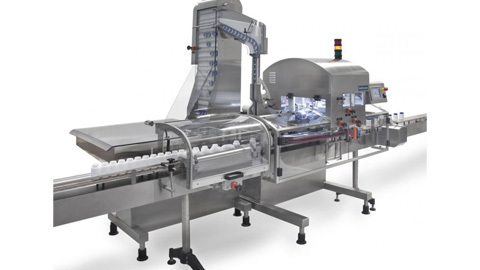 Blister Packaging
Pharmaworks has a wide range of state-of-the-art blister machines. See below for more information.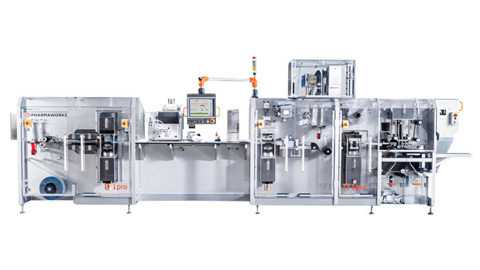 LIQUID FILLING & CLOSING / ASEPTIC PROCESSING
NJM is the exclusive sales representative of Dara Pharmaceutical. With a focus on innovation, Dara Pharmaceutical designs develops, and manufactures a comprehensive range of packaging equipment. Their offerings include washing, sterilizing, filling, freeze-drying, and closing machines, tailored explicitly for vials, bottles, syringes, cartridges, and IV Bags. These machines are designed to process liquid, semi-solid products, and powders in sterile conditions, ensuring the highest safety and reliability standards.
NOTEWORTHY APPLICATIONS
Vial Filling, Closing and Labeling Machines
Thanks to their high chemical resistance, which allows limited interactions between the product and the container, vials provide the highest safety for drug storage.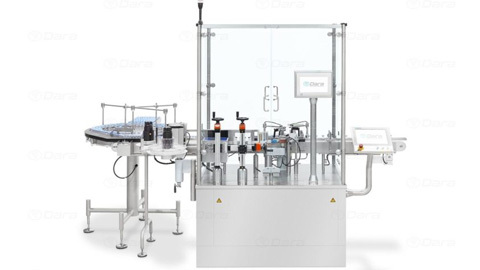 Syringe Filling, Assembling, and Labeling Machines
Single-use syringes is a format that offers the highest safety, hygiene, and dosing accuracy for pharmaceutical applications such as medical injections.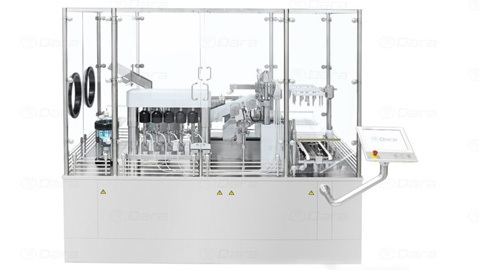 Cartridge Filling, Closing and Labeling Machines
Dara Pharma offers equipment for dual-chamber cartridges, making it feasible for a reconstitution operation with exact dosing of the drugs for self-administration.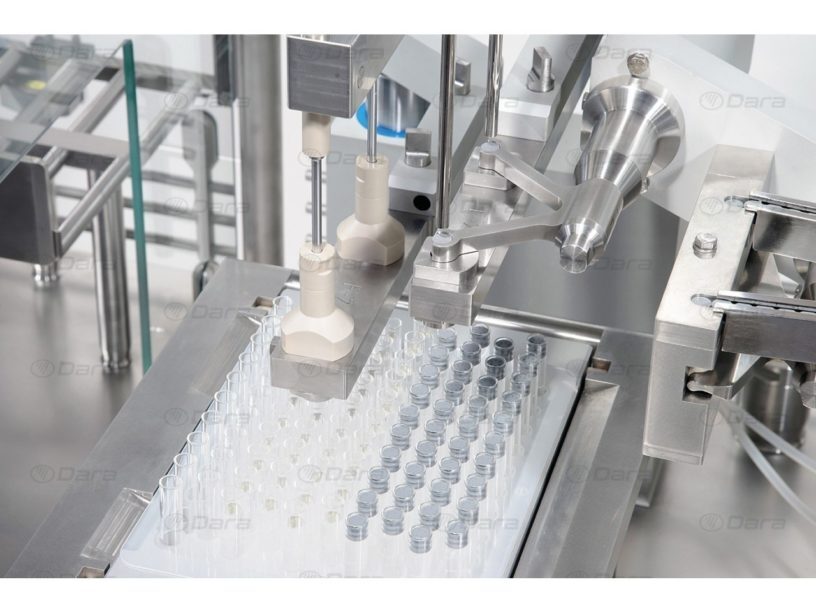 LABELERS, LABEL PRINTERS, AND CODERS
For over three decades, Weiler Labeling Systems (WLS) has been at the forefront of designing, manufacturing, integrating, and supporting advanced rotary and in-line labeling solutions. The company's unwavering commitment to customer satisfaction has resulted in consistently positive feedback regarding the quality and services provided by WLS. Furthermore, by actively engaging with customers and learning from their valuable input, WLS continually expands its product line to introduce new and innovative offerings.
NOTEWORTHY APPLICATIONS
Pressure Sensitive Labelers
WLS pressure-sensitive labelers label containers vertically or horizontally, while incorporating all major code printing and vision inspection brands.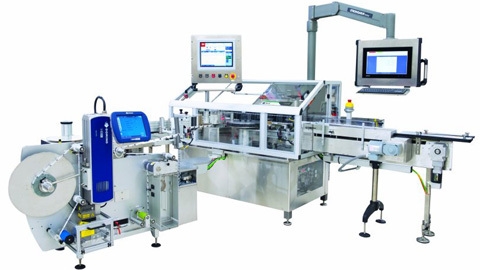 Pressure Sensitive Label Head
Designed to increase performance and enhance flexibility, WLS' X-5 label head is a servomotor-driven system incorporating significant size reduction and design simplification over previous models.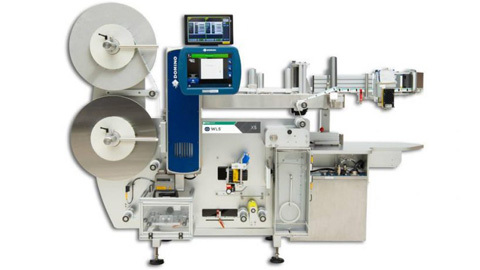 Digital Label Printer
AUTONOMY® is a new, state-of-the-art, high-speed, full-color, stand-alone digital label printer with integrated full-label inspection system.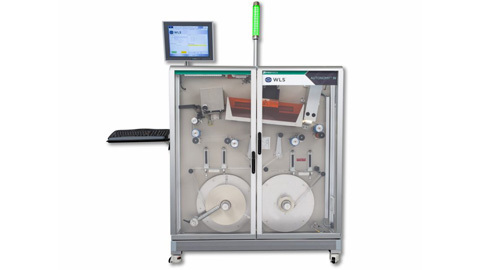 BLISTER PACKAGING
Pharmaworks excels in manufacturing innovative blister packaging systems for the pharmaceutical industry. Thermoforming solutions offer robustness and flexibility, allowing the creation of blister packs for both over-the-counter (OTC) and prescription unit dose pharmaceuticals. Their blister solutions cover a wide spectrum, ranging from semi-automated machines to fully automated systems capable of achieving speeds of up to 600 packages per minute. In addition to core blister packaging machinery, Pharmaworks also provides complementary systems such as feeding, transferring, collating, cartoning, and vision/inspection systems.
NOTEWORTHY APPLICATIONS
Blister Machines
Pharmaworks has a wide range of state-of-the-art blister machines to meet the needs of all blister packaging applications, from semi-automatic to the TF3 that can produce 300 blisters per minute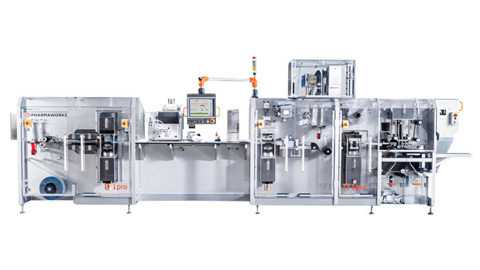 Feeding/Product Handling
Pharmaworks product handling solutions such as feeders, fillers, and bulk product conveyors are used on blister machines and feature improved performance.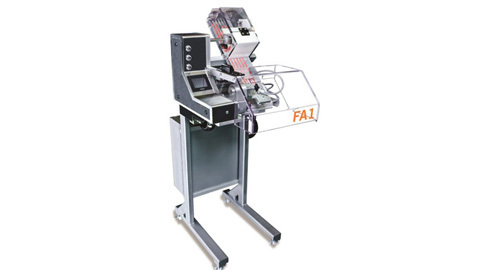 Rebuilds/Tooling
Pharmaworks began rebuilding and upgrading third-party blister machines in 2003 and today they continue to offer a range of rebuild and upgrade solutions for thermoformers and cartoners in the USA.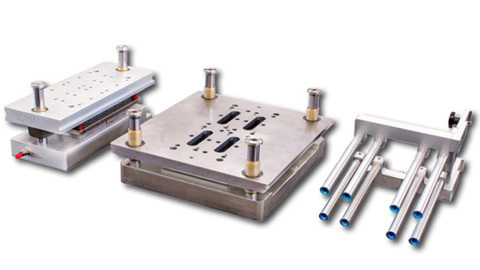 SECONDARY PACKAGING
Serpa meets all sanitary and FDA validation requirements, our ergonomically designed packaging equipment is available in both sanitary- and balcony-style construction. Our extensive experience with serialization, multiple insert feeding capabilities, super-efficient/high-speed leaflet feeding as well aspartition placement all add up to high-performance results. Serpa's packaging equipment is designed for easy access, maintenance-friendly operation and offers rapid verified and automatic changeovers.
NOTEWORTHY APPLICATIONS
Intermittent Cartoner
The P150 design allows for total access to the operator side of the machine via the three guard doors.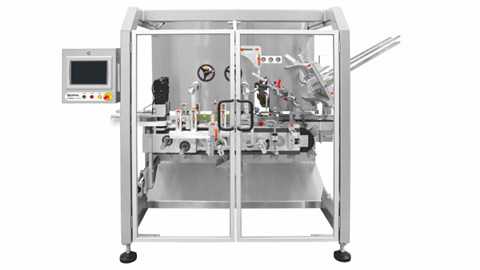 Vertical Cartoner
The P120 Vertical Cartoner is ideally suited for hand load or automatic load applications for the pharmaceutical, nutraceutical, medical device and personal care industries.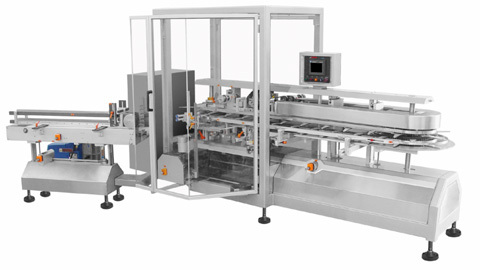 Side Load Case Packer
Side load case packer that runs both cases and trays. As a first of its kind; tape closure on cases and glue sealing of trays is accomplished with a simple changeover.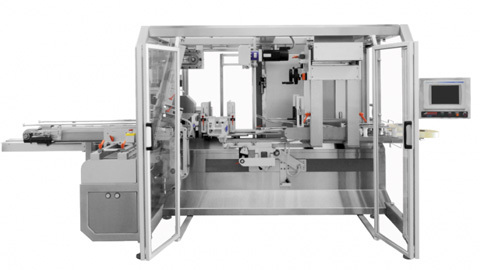 WASHING, STERILIZATION, AND DECONTAMINATION SOLUTIONS
NJM exclusively represents Steelco's Pharma and Biopharma products in North America. Steelco sets a new standard for automated cleaning equipment in the pharmaceutical industry with its comprehensive range of GMP washers. These products feature a modular design and exceptional quality. Steelco's GMP cleaning systems adhere to the latest cGMPs, encompassing design, manufacturing, validation, and documentation. Additionally, Steelco provides complete turnkey solutions for pharmaceutical sterilization processes. Together, NJM and Steelco manage all project phases, ensuring solutions surpass customer expectations.
Washing Systems
With a comprehensive range of GMP washers for the pharmaceutical industry, Steelco has set a new standard for automated cleaning process equipment.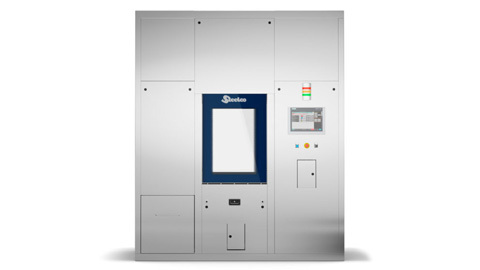 Sterilization & Decontamination Solutions
The AMS Series of Pharmaceutical Grade Steam-Air Mixture sterilizers is a range of autoclaves designed for terminal sterilization using steam air mixture technology.